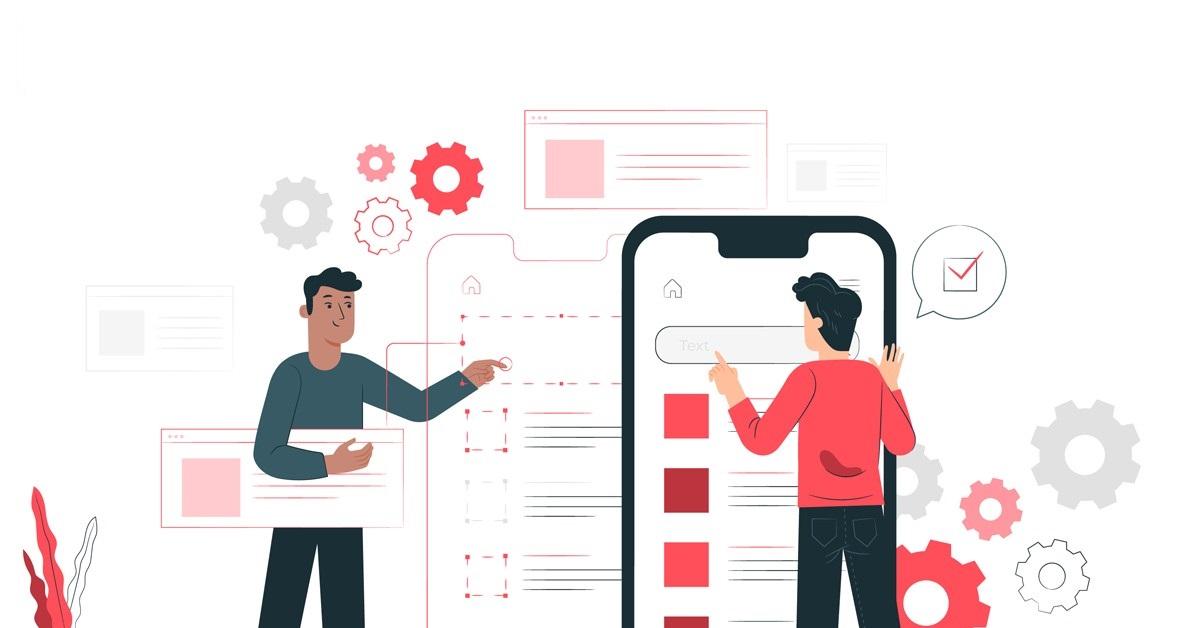 You have an idea for a mobile App. You know that it's a viable idea. You know that if implemented practically, it can earn you a lot of money. But you don't know how to develop an app. That's a question a lot of young entrepreneurs face. How does an entrepreneur, especially if they are not from the technical field go about developing a mobile app if you are also looking for the answers to these questions, then don't worry as we are here to help you out
Here we have curated a list that will help you figure out how you can develop an App in just 10 simple steps. So let's discuss the 9 steps of creating an app, starting from developing the app to publishing it on various App Stores, this list will cover it all. If you're an entrepreneur planning on launching a mobile app for your business, outsourcing your work could be the best option for you. Contact us now and we will help you hire the best app developers India has to offer. You can hire highly skilled and competent app developers from India at really low prices. Let us help you hire dedicated developers India has to offer and take your business to the next level.
Below are the 10 steps to create an app from scratch.
Step 1: Define Your Goals
Creating an app is a lengthy process. One cannot just decide and launch an app overnight. If you do want to launch an app, you need to ask yourself a question: What purpose is your App going to serve? What problems are going to be solved by your app? The very first step to building an app is to be clear about the purpose of your app. The answer to this question matters a lot as it is going to determine what market you are going to compete in and what features your app is going to have.
Step 2: Finalize Features
Once you define the objectives of your app, the next important thing to finalize is the features and functionalities of your app. You can conduct extensive research and find out what your competitors in the same market are lacking when it comes to unique features. At this stage, you can finalize a minimal viable product (MVP). A Minimal Viable Product is the most basic version of your app with the most basic necessary features, and you can keep adding new features based on the feedback from your users.
Step 3: Keep An Eye On Your Competitors
There's nothing wrong with researching what your competitors are doing. This way you can get a better idea of the scope of your app in the present condition of the market is. It will also give you a clear idea of what unique features you can add to your app to make it stand out from the competition.
Step 4: Designing Wireframes
You have defined a clear objective for your app, planned features, and functions you want to provide, and conducted thorough research of what your competitors are doing. Now the next step is to know how to design your app. Make a blueprint of the design of your app and then combine all the individual elements with wireframing. Wireframing is a visual depiction of the layout and flow of your app's many screens. This is one of the finest distraction-free approaches since you are not distracted by various graphic components.
Step 5: Choosing A Development Path For Your App
Once you are done wireframing your app, comes the most crucial part of the app development process. Choose a coding language and platform for your app. These things can be chosen based on your target audience, your budget, and the requirements you have from your app. For Example, if you are planning to launch an app mainly focusing on the African market, then it makes sense to just launch an Android app. But if you are trying to target a more global audience, then you might want to go with iOS as well as Android apps.
Step 6: Development Of Your App
It takes time to develop a high-quality mobile application that meets all of the criteria and adheres to the market rules. Make sure you hire a company that is reliable and well-reputed when deciding the development of your app. Below are a few steps you need to take into consideration when you are developing your app:
Get rid of all the unnecessary elements from your app's design.
Try to use a single input field over multiple fields whenever possible.
Choose the optimum database.
Do not overuse push notifications.
Create an app that is future-proof and can earn you money in the future as well.
Step 7: Testing Your App
Once you have successfully developed an app, it's time for you to test your mobile application and make sure there are no defects and bugs that can hinder the experience of your users. Conduct internal and external testings and gather feedback. Make sure all the bugs and issues are fixed before the launch of your app.
Step 8: Launching Your App
Once the development and testing processes are completed, it's time for you to launch your app on various app stores. When you submit your app to Play Store or App Store, make sure you are strictly following the terms and conditions, and the guidelines of these stores. according to a recent study, Apple's App Store rejects more than 40% of the submissions every year and on the Play Store, that number is over 55% of app submissions.
Step 9: Promotion And Marketing
No matter how good your product is it is always going to need advertisements and marketing. in today's market product is not going to be able to survive without proper promotional campaigns. Make sure in your advertisements, you tell your customers what your brand is about, what your story is, and what the main features are that you offer through your app. Create targeted marketing strategies based on your target audience and the kind of market you are competing in.
Step 10: Maintenance And Updates
Your job doesn't and once you have successfully developed and launched your app on App Stores. It's important to listen to what your users have to say and use their feedback to improve your product by Rolling out regular updates and fixing bugs and problems. Keep an eye on what new features your customers are expecting from you and try to provide those through major software updates and bug fixes.
Conclusions
So this was our definitive guide on how to launch a mobile app in just 10 steps. If you are a young entrepreneur and are looking to take your business to the next level by launching a mobile app, you must hire competent and trustable mobile app developers. You should hire mobile app developers that will make your job much easier and handle everything for you so that you can focus on the more important aspects of your business.
Outsourcing your app development to India can be the most viable business option for you as you can get affordable services from highly competent and skilled experts. We can help you hire app developers India has to offer at very reasonable prices. Hire Dedicated Developers India has to offer through us and create something awesome!
Also read about:
Signs Your Commercial Kitchen Exhaust Fan Needs A Repair
Full Bybit Review Trading Plateform
PROTECTIVE COATING TYPES FOR CARS